Remotely Piloted Aircraft (RPAS – UVA's – Drones)
You are only allowed to fly a drone within 4km of an aerodrome if certain conditions are met. It's important you are aware of these conditions as flying near an aerodrome can be a hazard to other aircraft. Please ensure you have read and fully understand the conditions outlined below BEFORE requesting approval to operate a drone.
An approval cannot be granted unless you meet ALL necessary requirements.
A drone flight must comply with Civil Aviation Rule Part 101, specifically Rule Part 101.205 – Aerodromes. The intention of the Rule is to ensure the safety and privacy of the public is protected during the use of remotely piloted aircraft.
New Plymouth Airport is a controlled aerodrome. A drone can only be operated within 4km of New Plymouth if the following conditions are met;
Authorisation is received from ATC (Air Traffic Control).
Approval to operate is required for each flight, this approval is subject to the operator meeting requirements In order to ascertain the effect a flight may have on airport operations and safety;
The operator holds or is under direct supervision of the holder on an approved qualification issued by an approved person or organisation or holds a pilot's licence or certificate issued under Rule Part 61 or 149;
An observer is required to be in attendance while your aircraft is in flight;
No approval will be granted to fly over any active movement area on the Airport (Runways or Taxiways).
To fly within controlled airspace you must:
Log your flight plan on air share. This can be done clicking on this link or going to

 

airshare.co.nz;
Read all instructions in the automated email received. If you are unsure of these instructions contact Air Traffic Control;
Contact Air Traffic Control prior to your planned flight for final clearance;
Contact Air Traffic Control again to confirm your flight has finished.
PLEASE NOTE: Completing an airshare flight plan DOES NOT automatically provide approval to operate.
For more information please click on the link below https://www.airshare.co.nz/must-know/things-to-know-flying-near-an-aerodrome
Permission from Property Owners
The CAA rule also requires the operator to seek approval from the land owner for any property they wish to operate over. If it is a park or public space you want to operate at, the New Plymouth District Council (NPDC) would need to first provide permission. NPDC can be contacted on (06) 759 6060.
The 4km radius for restricted RPAS activity
The aerial map below shows exactly how far reaching the 4km zone is (this map is only indicative. Of high concern are the take-off and approach paths noted on the below map.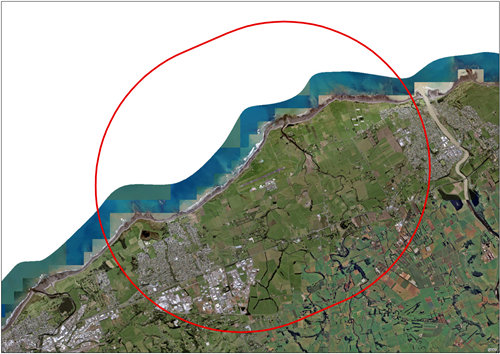 New Plymouth Airport recommends operators visit the CAA and Airshare websites to keep up to date with the progression of RPAS rules by the CAA.